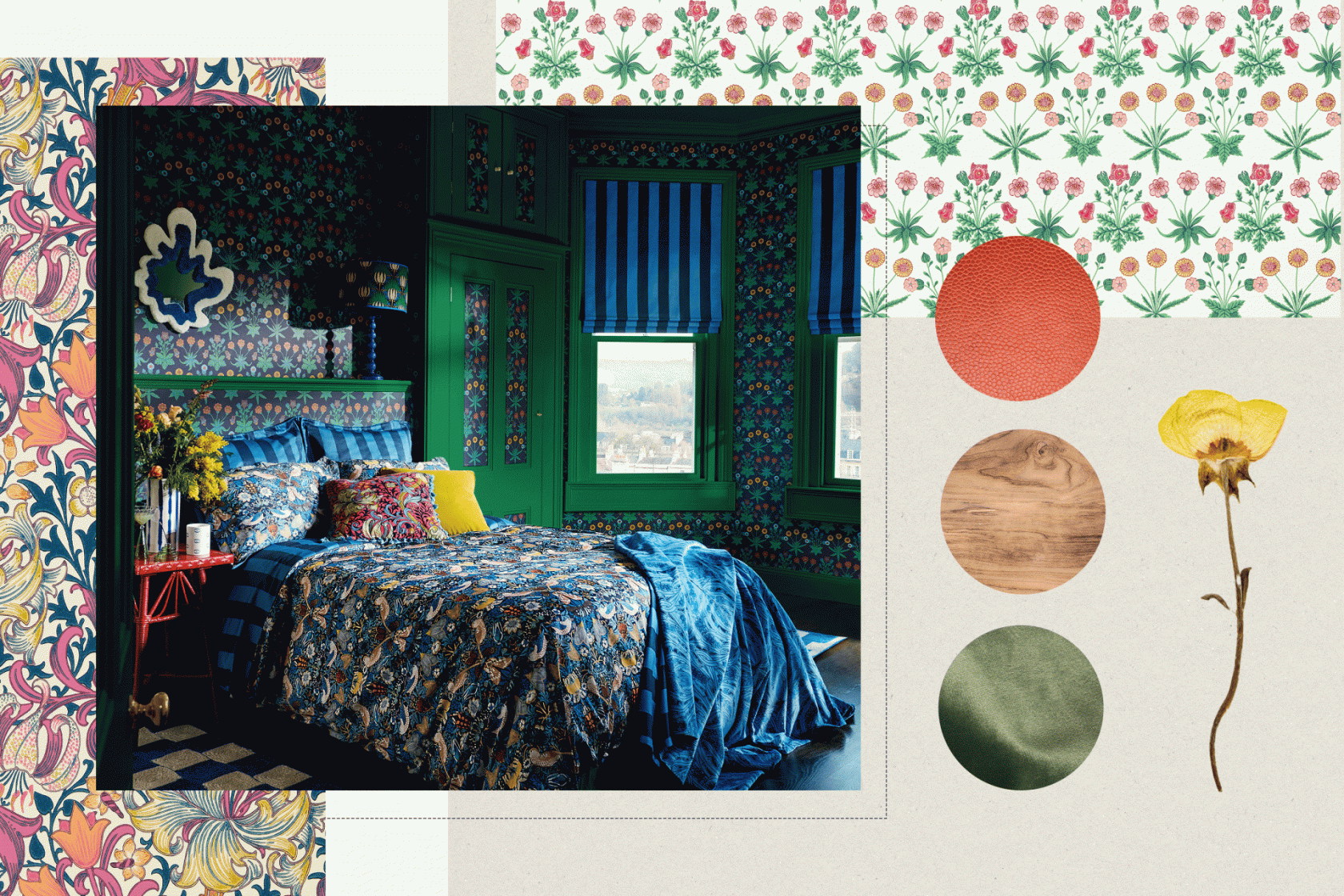 Pattern is one of the most powerful decorating tools at your disposal – here's how to make it work in your space…
If your interiors are feeling a bit flat, introducing a flourish of pattern into your scheme is a sure-fire way to add some vibrancy to the space.
However, creating a bright, bold aesthetic can be daunting, particularly if you've previously stuck to a more sober approach.
That's why we've enlisted an expert to provide you with some key pointers, with Liberty Blackwell (senior stylist at interiors experts Archive) on hand to share her top tips on all things pattern.
Better still, once you've armed yourself with some inspo, you can also enter an exclusive competition to win a money-can't-buy design consultation with Liberty, as well as £1000 to spend on the Archive website
Here's everything you need to know to start working with pattern…
1. Make a plan

Whether you've worked with pattern before or are a complete novice, it's a good idea to do some forward planning before you jump in with both feet.

"The best thing to do is to collate all your favourite fabrics, wallpapers, paints and textures and put them together in a physical mood board," advises Blackwell.

"Remember to include your flooring sample or pull the mood board together on the floor in the room you are decorating. This will help you visualise everything together.

"Consider where you would like prints to feature and lay the samples next to where they would sit in the room.

"For example, your blind fabric needs to sit well with the paint or wallpaper, your sofa fabric with the curtain fabric, and so on.

"Consider the layout of the room and plan accordingly." 

2. Start with accent pieces

You don't have to wallpaper every available surface with loud, busy prints – a good way to start working with pattern is with a well-chosen accent piece.

"Start with your favourite design and the focal point of the room," says Blackwell.

"For instance, if you have a room with a beautiful view, printed curtains would be a fabulous way of drawing attention to the window.

"Or if you have a cherished antique chair or sofa, re-upholstering in a bold print accentuates the detail and features of the furniture.

"In a bedroom, the bed is the focal point, so either go for a print headboard, or alternatively, wallpaper all the walls and use plain bedding to provide contrast."

3. Be brave

Working with pattern requires you to be bold, and understanding the various effects your pattern choices can have will allow you to make braver decisions.

For example, pairing your patterns with block colours can be a great way to get started without losing control of your scheme.

"Solid block colours or different scale or style prints will help break up pattern within a room," explains Blackwell. "For instance, wallpaper on the top half of a wall goes brilliantly with painted panelling on the bottom half."

"For an easier way to achieve the same effect, Archive also has some fabulous 'hint of print' curtains with a block colour velvet mixed with a panel of print to help space out the pattern within a room."

There's also no need to be afraid of mixing and matching multiple patterns within the same space.

"Mixing prints with rich colour palettes is an effective way of layering bold patterns," advises Blackwell. "As long as the colours tie in together, you could use four or five different prints within a room."

Also remember that the same pattern in a different colourway can give a room a whole new energy.

"Archive's Daisy wallpaper, a smaller-scale design, comes in Midnight and Strawberry Fields colourways," says Blackwell, by way of an example.

"Both create impact in a kitchen space and bedroom, but the overall feel of the rooms is hugely different with the change of colours." 

4. Consider light and space

As with all elements of interior design, successfully integrating pattern into your scheme requires careful consideration of the size of the room and the way it's lit.

"Working with the natural light is so important," stresses Blackwell, "regardless of whether you're decorating a small or big room.

"With a smaller, darker room, go bold to maximise its potential. Wallpaper all the walls, add in velvet prints and throw cushions… go wild, basically. This room will soon become your favourite in the house.

"Bigger or brighter rooms require more space between prints," she continues.

"Add panelling or dado rails to break up the wallpapered walls or pair your patterned blinds with a bold coloured paint.

"Different textures will also change the way a room feels. Velvet prints instantly create a luxurious cosiness to any room, whereas cottons and satins add light and softness."

5. Tap into trends

Maximalism is a key interiors trend in 2022, and the liberal use of pattern will really help your scheme pop.

"People are becoming bolder with their interiors choices," says Blackwell. "We're seeing far fewer feature walls and a big upswing in all-over wallpaper.

"Start with a smaller room if you are cautious. It can be helpful to fix a wallpaper sample to your wall and live with it for a week, before making a final decision."

The other big pattern trend of 2022? Bringing the outside in…

"Bringing nature into the home is a fast-developing trend, whether that's through earthy-coloured prints or botanical designs," explains Blackwell.

"Use the colours in your favourite botanical design to create a full colour scheme for your room, or feature earthy tones on a smaller scale with a cushion or lampshade." 
Ready to introduce some more pattern into your home? You could win a money-can't-buy design consultation with Liberty, as well as £1000 to spend on the Archive website. To be in with a chance of winning, just enter the competition here.
Archive's range of wallpaper, fabrics, homeware and made-to-measure curtains and blinds embrace maximalism at every turn through boundary-pushing prints and patterns from the iconic Sanderson Design Group Archive. Shop the collection here.